How to Stop on Hockey Skates
A common problem that many new hockey players have is learning how to stop. I don't mean stopping by dragging your foot, doing a 360 or running into the boards, I mean doing a proper hockey stop! I have written this article to help you learn how to stop in hockey, I have also made a how to stop in hockey video that I have added below. You can watch the video if you prefer a visual lesson, I will include key points below the video.
The first video shows the basics of stopping on skates. The biggest part of stopping on skates is getting over the mental barrier. Here is the first video.
This video covers the basics of stopping and helps you understand what is happening.
As you can see in the video the main concept to grasp is that you have to peel the ice, and you will be sliding sideways for a brief second. The most important point to take away from this video is that you MUST keep your momentum moving in the direction you are skating, otherwise you will just turn around. Now you can watch the how to hockey stop video
The Hockey Stop for Absolute Beginners
We made the video below this one first, but we still had a lot of questions so we decided to address all those questions in this video, and offer some very simple solutions to some common problems that beginner hockey players were having.
Learning how to hockey stop can be tough, but by learning the proper technique, taking it slow, and practicing a lot you should be able to learn in no time! Here is the process of stopping in hockey. A player starts by skating forwards, when the player is ready to stop they will lift one leg slightly to take weight off of it (this can become the back leg or front leg but for the purposes of this example this will become the back leg). With a bit of weight taken off of one skate, the player will start to lean back, rotate their hips and shoulders and begin to turn with their other leg (this leg becomes the front leg). When the player has turned their front leg approximately 90 degrees they will now plant their back leg about 1 foot behind their front leg. At this point the player will be leaning back, and keeping the momentum moving in the direction they were skating. With both feet planted the player will slide for a brief second before coming to a full stop. This sounds like a lot to learn and a long process, but it happens in less than a second. You can see this process in action in the video above if you would like. I have also added pictures of how the hockey stop happens below.
Hockey Stop -- Start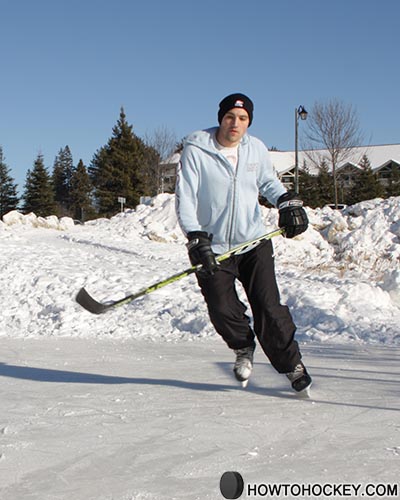 You can see here that I am just finishing my last stride from skating, and now preparing to stop. I am pushing off with my back leg (left leg) and getting ready to land with my front leg (my right leg).
Hockey Stop -- Rotate Hips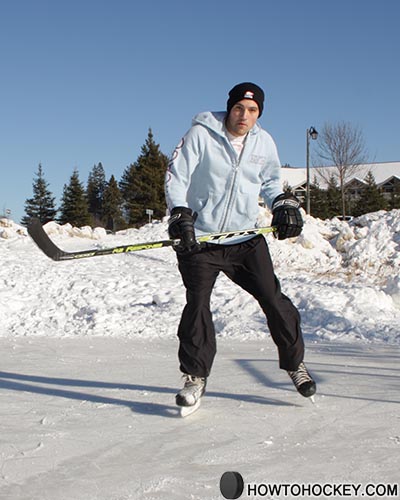 You can see that I have pushed off with my back leg (my left leg), landed with my front leg, and now I am beginning the hockey stop. I am starting to rotate my hips, and turning my front foot. At the same time I will be leaning back, and bringing my back leg behind my front leg.